The Santa Maria City Council has prioritized maintaining Broadway and Main Street as the dividing lines between election districts in the effort to redraw boundaries based on 2020 census data. 
Conversations about redistricting with the public began in early August and continued Tuesday as the city held a second public hearing on the topic, with consultation from Daniel Phillips of National Demographics Corp. 
Jurisdictions with a district-based election system are required to revise district maps every 10 years based on U.S. census data. The city switched to by-district voting in 2017 with a map based on 2010 census numbers. 
Council members unanimously approved a motion Tuesday recognizing the importance of keeping Main Street and Broadway as the center of the district map, therefore keeping the downtown area and its population equally represented between the four districts.
"I would certainly like to keep the downtown area as part of everyone's district, so that part is very important," said Councilwoman Etta Waterfield.
Several residents agreed, adding that the current district divisions represent the city's demographics.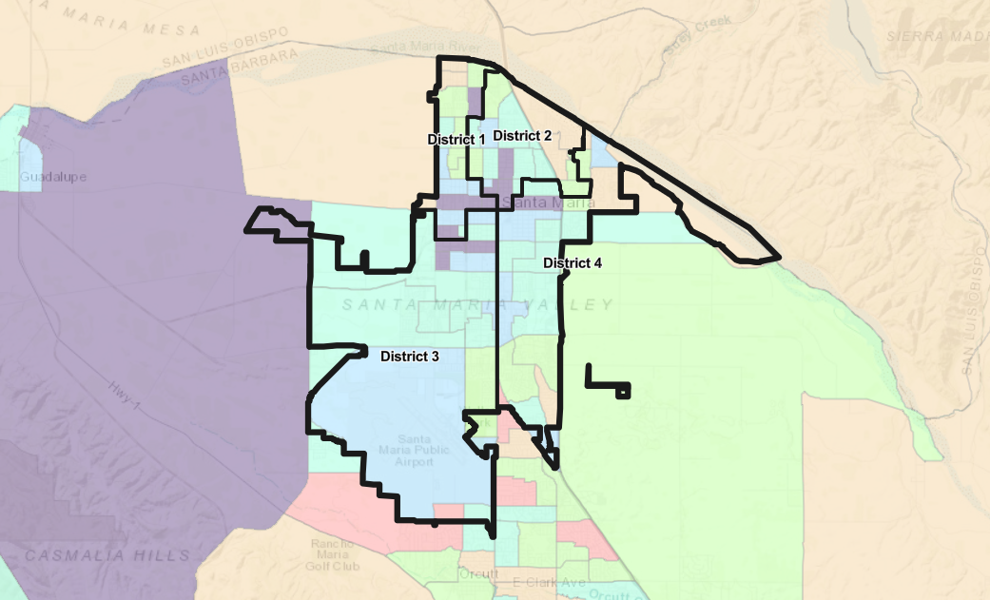 "Dividing the map this way still makes most sense," said Rebeca Garcia, spokeswoman for Central Coast Alliance United for a Sustainable Economy. "With over half of eligible voters in the city being Latino, a fair map will have two out of four districts with majority Latino voters. These natural districts lie in the northwest and southwest quadrants."
Despite an interest in maintaining easily identifiable district lines, city officials will have to edit the map at some point to account for population changes.
According to 2020 census estimates, each district should contain around 26,500 people. The population in District 1 currently deviates from that ideal population by over 10% above the permitted threshold. 
"Even though I would like very much to separate things where it's easy for everyone to understand, I get the feeling that we absolutely have to make alterations in those lines," City Councilman Mike Cordero said.
Some community members called on the city to expand accessibility to redistricting discussions to gather more input, noting higher levels of participation in 2017 during the city's initial districting efforts.
In addition, unlike most council meetings during the pandemic, both redistricting hearings have taken place outside City Hall and, therefore, have not permitted participation via Zoom. Some residents said that restriction limits access to residents who are not comfortable participating in person.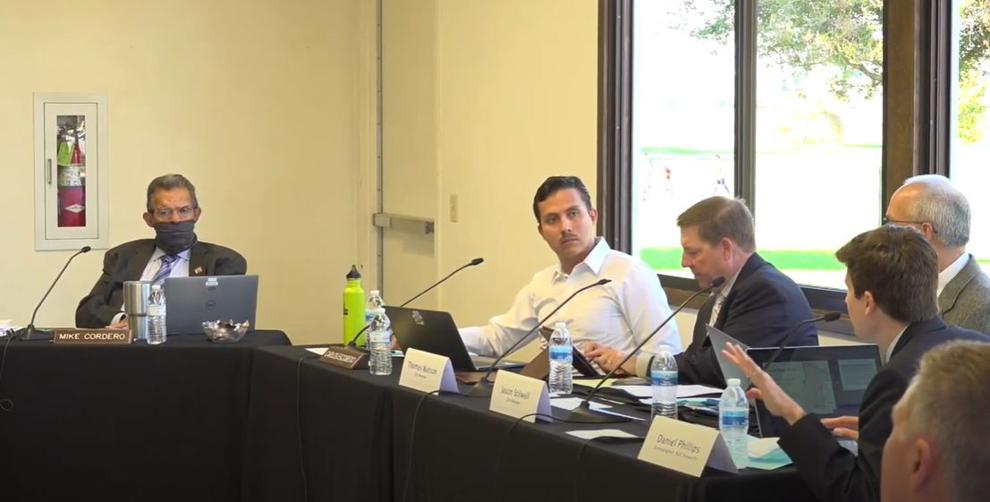 "Considering that COVID-19 is still around, I hope the city will make more of an effort to have meetings live, via Zoom or a webinar or YouTube, and you may get more participation," resident Kathy Sharum said, noting the lack of any public commenters at last month's redistricting hearing.
City Manager Jason Stilwell said the city is offering a variety of ways for community members to be involved, through meetings at City Hall and other locations, as well as over Zoom.
"We are striking a balance between going out into the community to allow people to have more access to our meetings, and then when we're not out in the community, our meetings are livestreamed where people can access and come in at those points," Stilwell said. "We are spreading this process out over several months and hoping to allow people to participate in various ways."
A recording of the meeting is also available on the city's YouTube page. 
The next step is for city officials to continue engaging with local groups and gathering public input about suggested changes to the map and any communities of interest that should be kept together. 
Community members have until Feb. 14 to submit draft maps and other feedback that will be included for consideration. After the maps are posted Feb. 23, two public hearings to discuss any revisions will be held on March 2 and 15.
Based on community feedback to the draft maps, a final map will be adopted via an ordinance on April 5. 
To learn more about the city's redistricting process, visit cityofsantamaria.org/redistricting. Under the "how to get involved" tab, residents can find information about submitting input regarding communities of interest via mail, email or public comment, as well as maps featuring demographic data for each district.
In other business, City Manager Jason Stilwell announced the cancellation of the City Council's Sept. 21 meeting, with the next meeting scheduled for Oct. 5.